Twitch Drops for Warface
2020-12-03 15:24:41
Soldiers!
New Twitch Drops are going live today! They will last from 3 pm GMT on December 4th until 08:59 pm GMT on December 6th.
How to participate
Streamers and viewers will need to link their Amazon accounts to their Warface accounts. To do this, please use this link, choose the platform you play on (PC, Xbox, or PlayStation), then click Link With Twitch. Done!
Now you'll be able to tell by the marker below the streamer's broadcast if they are participating in the event. Keep in mind: to earn the prizes, viewers must link their Amazon account to their Warface account.
Unfortunately, there won't be any Twitch Drops this time around for our Nintendo Switch users. However, we would like to make it up to them. After our next server maintenance, all of our Nintendo Switch players that log into the game will receive 3 of the boxes listed below as well as the new "Warrior of Darkness" achievement. You will only have 24 hours after the servers are back online to claim these items! So stay tuned for news on when our next server maintenance occurs.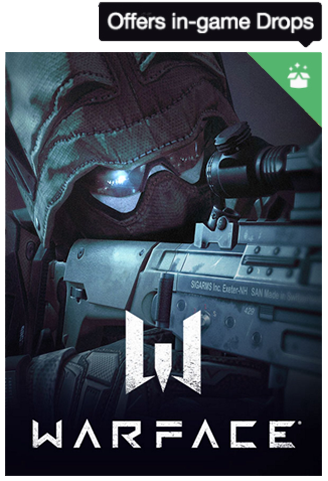 ---
Prizes
This time our Twitch Drops participants will get different prizes based on viewing time.
Please note: the items will drop straight into the game (if you have a character there).
WATCH STREAMS ON TWITCH.TV FROM 3 PM GMT ON DECEMBER 4th TILL 08:59 PM GMT ON DECEMBER 6th AND WIN PRIZES!
PlayStation and Xbox
Watch a stream over 30 minutes
Blackwood rewards.
A box containing Blackwood themed rewards.
We'd like to remind you that you can not only acquire crafting cards for an ACR CQB Custom, but also a temporary and permanent version of raid Blackwood weapons. They include M134-GAU19b Hybrid Blackwood, Tavor TS12 Custom Blackwood, H&K G28 Blackwood, F90 MBR Blackwood и ACR CQB Custom Blackwood.

The limit is 7 boxes per account.
Watch a stream over 90 minutes
"Warrior of Darkness" achievement.
A unique stripe in the Blackwood style.

The limit is 1 stripe per account.
---
Important
So that your viewers can easily tell if you are streaming with Twitch Drops, please specify this in your broadcast title.
Prize drops are guaranteed to all viewers every 30 minutes of a broadcast.
To receive a reward you must watch a broadcast for at least 30 minutes.
Keep in mind, by watching a stream you can't get more than 2 boxes an hour on the same account. In total, an account can get only 8 prizes.
If you didn't get the marker that shows you are eligible for Twitch Drops, please use this link once again and link your accounts.
If the link doesn't open, clear your browser's cache.
You won't be able to acquire a prize if you don't have a Warface character.
The stream has to be of Warface. Make sure to follow Twitch's terms of service. Misconduct won't be tolerated.
Have a fun weekend!
---
Discuss the article